You don't need to wait for retirement to be able to retreat to the countryside with less commuting, better work-life balance, and better mental health.
The move to remote work following the Covid 19 pandemic has made life close to nature more accessible for previously office-based workers and more desirable for families wanting to get out of built-up areas or those looking to escape the stressful city life.
Our 4 bedroom detached Sabden not only comes with a spacious living environment and open plan kitchen and dining area but also has an office on the ground floor which is perfect for home working.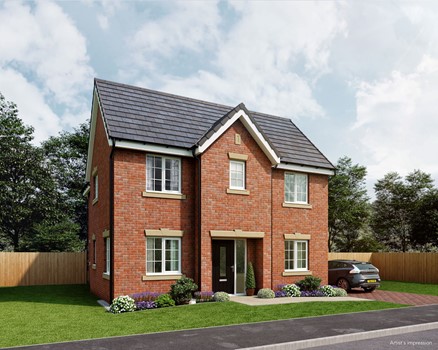 The Sabden at plot 24 on our Scholars Chase development also has the added benefit of views to the side looking out over public open space and the countryside beyond, giving you wide green spaces to enjoy.
The beauty of a move to Inskip means that flexible/hybrid working is also possible due to the great road connections for the North West meaning that you really can have your cake and eat it.
Country living has a lot to offer, including a reduced risk of depression and anxiety compared to city living.
Without the need for commuting, the average person will save over an hour each day. This will also save money on petrol and car maintenance. By spending less time on the road working remotely is better for the environment and your carbon footprint. The savings don't stop there, working from home means less need for work clothes and buying lunch out.
Having an office in your home can bring a welcome change from a stuffy office environment with small desks and fluorescent lighting. Remote work enables you to create an inviting workspace within your home that suits your wants and needs and inspires you to work productively.
Many people believe that the biggest benefit to remote work is having a better work-life balance since employees can often tailor their schedules around their personal commitments.
For more information on the Sabden or any other plots available in the peaceful village of Inskip please speak to our friendly Sales Advisor.